how could you even begin to understand?
synopsis
How could you even begin to understand? is highly original and rivoting performance work began in Australia in 1996 and is an on-going "devotional work" between Tony Yap and Yumi Umiumare. It is constantly evolving with every version. Over seven years they have performed versions 1 to 29 in gallery, church, landscape and performance spaces.

Yumi and Tony's work is acclaimed for their unique style – a hybrid of different influences especially from Butoh, phycho-physical theatre and Malaysianshamanistic trance practice. They then began to investigate the principles of yin-yang more completely; asa sensibility in performance, as an expression of Asian identity, as a principle that underlines harmony, and as a possibility for spiritual transformation.

They have discovered a common association with the philosophical principle of Yin and Yang, oppositional elements that are found in all manner of Asian experience and their performance experience. While this philosophy is well known to the extent that it might be a cliche of Asian culture, there is great creativity and depth to be found in reclaiming and revaluing such an essential concept through performance.
"... It was a most remarkable moment in the new evolution of Butoh history."
"CUT IN" Magazine, Tokyo

"Yumi's background visibly remains butoh and its multifarious manifestations of a body at once chaotic, fluid, sensitive and radically restrained, while Tonydraws more on other traditions of the ecstatic body – the closest to a shamanistic trance most of us are likely to see ... another masterful work from two of Melbourne's most arresting performers."
Jonathan Marshall - Inpress

"a taut and totally engrossing ... rivetting in it's spontaneity and expressiveness, this work was a gem."
David Croft-The Melbourne Times

"In a stunningly compelling performance, they shift from one meditative state to another, the dynamics changing from quiet composure to frenzied ecstasy."
Hillary Crampton - The Age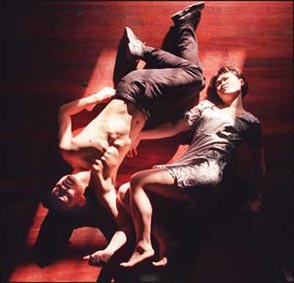 presentation history
2004
BB04 Dancehouse, Melbourne, (Version 30-33)
2003
Actors Studio, Kuala Lumpur (Version 26-29)
Images of Asia Festival, Copenhagen as part of 24hr Performance.
Melbourne International Arts Festival as part of incompatibility
2002
Mass Gallery, Melbourne: 5 –Collaboration with Hisako Tsuzukuand Anthony Pelchen.
(Version14-18)Judith Wright Centre: Kultour: Australia Dance Week, Brisbane(Version19, 20)
JADE2002 – Beyond Butoh at Park Tower Hall, Tokyo (Version 21)
Performance Space, Kultour, in Carnivale Sydney (Version 22-25)
2001
North Melbourne Town Hall, with Calligrapher Hisako Tsuzuku(Version8)

2001
Dancehouse, Melbourne: Mixed Metaphor (Version 9-12)
Melbourne City Square/ Footscray Mall: Melbourne International Art Festival -Rice Paddie. (Version13)
2000
Horsham Regional art Gallery: Horsham Arts Festival (Version7)
1999
ANTISTATIC99, Sydney (Version 2)Horsham Regional Art Gallery (Version3)
Lower Melbourne Town Hall: launch of Construction (Version 4)
St Stephen's Anglican Church, Richmond, Melbourne, Melbourne Fringe Festival, with installation by Anthony Pelchen (Version 5, 6)
1997
Festival Colline Torinese, Italy as part of Amleto
1996
Experimenta Arts Festival, Melbourne: Installation performance withLim Tzay Chuan (Version1)









CONTACT

Address: PO Box 3048
Bellevue Hill
NSW 2023 Australia
Email: mayu@mayu.com.au
Phone: +61 2 9362 0898

or Tony Yap
tonyyap@netspace.net.au