E1 - evocation of a lost boy
E1 (solo dance piece)
E1-Evocation of a Lost Boy is a contemporary ritual dance performance. It is inspired by a section of the Noh play Atsumori, interpreted into a poetic evocation of a lost boy.
A thirty-five minute performance which takes the audience on a transformative journey through traditional temple ritual practices in a contemporary aural/kinaesthetic realm.
The aesthetics of ancient Malaysian shamanistic trance practice, Butoh and physical theatre combine with contemporary acoustic and electro-acoustic composition. A world is created which resonates with the sound of the dancer's body and voice, within a sonic score of samples, prepared piano, wind and Javanese vocal style. The elements of sculpture and projection create a form of cartography, literal and electronic conduits which transform movement notions of the body.
The aesthetic realm and the devotional space is a contemporary construct.
Conceptually, E1-Evocation of a Lost Boy is a multi-modal piece, making particular use of a variety of media to shape a dance. The virtual temple is created with the collaboration of a video artist, a sculptor, two musicians/composers and a vocalist. The audience is drawn into a contemporary ritual dance in the installed "temple" created by each performance modality.
The work incorporates a sculptural installation by Naomi Ota and a soundscape/instrumental performance by Madeleine Flynn and Tim Humphrey. The resulting composition will be a network of landscape of acoustic arenas that fluctuates dynamically to the traditional, live and performative environment. Ria Soemardjo narrates in vocal poetry the emotional-spiritual journey of the dance.
review
"... Tony is now engaging richly with a living expression of the connection between spirit and body. In this bewildered new century it is timely to be exploring spirituality and personal response to a range of externals; and also important to be reminding us all of the ritual origins of theatre. ... this is a remarkable achievement as it is always artistically controlled by Tony's refined aesthetic, yet it is also at once genuine impulse work. To see the freedom he finds within these structures is the closest I have come in Australia to seeing a Noh Master at work."
- Aubrey Mellor, head of NIDA, Sydney
artists
Tony Yap - dance
Ria Soemardjo - vocalist
Madeleine Flynn - composer, musician
Tim Humphrey - composer, musician
Naomi Ota - visual artist
Sarah Rubidge (UK) - digital imagery
"We certainly felt that the most successful "body as a site" was the integrity of inner landscape revealed by Tony Yap. Great to see him performing, he's such a developed and mature performer, a fine and deeply interesting artist to watch, and to experience his performance…"
– Suzon Fuks & James Cunningham (Directors) Igneous
"...large scale installations, Ether (E1)... foregrounded more strongly the use of sound and sound/body interactions. Framed by 10km of cascading red rope on the outdoor Terraces, Ether (E1), directed and performed by Tony Yap, extended "traditional temple rituals and practices into contemporary aural-kinaesthetic realms." Composers and musicians Madeleine Flynn and Tim Humphrey deftly reworked vocals collected via public "memory sound booth" in Brisbane and Melbourne to engage the audience in a collective ritual of sound as it resonated and reverberated with Yap's trance-like body, swirled within the terrace auditorium and took flight into the night sky."

– Mary Ann Hunter, RealTimes
"With Tony Yap's ether (E1), we moved back into a more grounded, yet spiritual realm. On a lawn at the bottom of a small amphitheatre, surrounded by a "virtual temple" made of closely spaced lengths of rope (by Naomi Ota), Yap performed an intricate, very absorbing piece based on Malaysian trance dance. Two musicians, Madeleine Flynn and Tim Humphrey, and singer Ria Soemardjo, provided a haunting soundscape. ether (E1) was my favourite of all the installations, with its integration of site, music and dance."
– Ruth Ridgway (2006), Dance Australia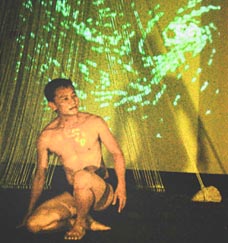 All pics by Naomi Ota
E1 Presentation history

2006
Aug E1 Lombok Arts Festival, Indonesia. and Geoks Festival, Singapadu, Bali.
July E1 as part of Accented Bodies, Brisbane Arts Festival, Queensland, Australia
May E1 Telegraph Station, Alice Springs, Central Australia
Jan E1 Shanghai Music Consevatory, China.
2005
Sept E1 BB05 Festival, Dancehouse, Melbourne.
2004
Nov E1 pilot project commission by Victorian Arts Centre - George Adams Gallery, melbourne
Jan E1 Rechabite Hall, Melbourne.